It has been rightly said by someone that we can open our hearts to strangers. In this fast-paced world, we need someone to talk to and share our feelings. Omegle is an online platform where you can talk to strangers without registering yourself. Apart from Omegle, there are other sites too, which are some of the best Omegle alternatives. Therefore, read along to know more.
What is Omegle?
Omegle is an online chat webpage. You can chat with strangers for free. You get randomly paired up with a stranger, and you get to chat with him or her. A user also gets to video call the stranger.
In Omegle, the users are named as "You," "Stranger 1", "Stranger 2", "Stranger 3", and so on. Hence, you do not have to reveal your real identity to chat with a stranger. You can keep your identity and randomly chat with anyone. You can talk about your day, your emotions and feelings, a fight with your boss, or anything you want to. Your identity is safe at Omegle as a stranger.
Leif K Brooks launched Omegle in 2009. Back then, it was only an online chat site. In 2010, it introduced the video call feature, where people will be able to video chat with random strangers.
Features of Omegle
Omegle has quite a lot of features as an online chat forum. From video calling chat to "Spy mode," it has a myriad of features.
Video Calling- This feature is a fantastic benefit for people who love to interact face-to-face and focus on eye contact. Video calls can be a great way to talk to strangers and knowing more about them. People can lie over chats, but not on a video call if you have a sharp eye for details.
Spy Mode- Omegle introduced the spy mode in 2011. The spy-mode has two features. Firstly, a user can act as a spy and ask a question with the other two strangers. Secondly, a user can discuss a problem. The spy may end the conversation any time, without disrupting the conversation between the other two strangers.
Interests- Omegle added the "interests" tag in the following year. Now, you can connect and talk to strangers with similar interests. How interesting is it to talk to strangers who have similar hobbies and passions? You can learn so many new things from a stranger.
Dorm Chat- This is another exciting feature. This feature allows college and university students to chat with other fellow students of their institution. Users can chat with their colleagues and classmates. Users need to provide an email address, ending in ".edu."
Unmonitored Video Chat- Users have criticized this feature. This feature allows consenting adults above 18 years to share and view explicit, uncensored video streams.
How safe is Omegle?
Omegle is safe for a user as far as the user does not reveal any personal information. Revealing personal data and information to an unknown stranger makes it vulnerable to another stranger or hacker.
There is no need to register yourself on the website. Hence, users can be exposed to sexual content as well as racism. Pornography or sexual content can have a significant impact on the minds of underage users.
Omegle has poor security measures, which makes it vulnerable to hackers. When their database is hacked, hackers can quickly get access to the chats of the users. It has been reported earlier that private adult chats have been leaked earlier.
Therefore, you have to be very cautious while sharing your private details to a stranger.
Can you get banned on Omegle?
Well, yes, you can get banned on Omegle. Generally, the reasons are not stated by the website. The ban can last up to 120 days. The duration of your ban entirely depends on the reason. But, you can use a VPN and use the website.
Omegle is a great way to chat with strangers. It is amusing and exciting, getting to know new people and new culture. You can also share your feelings and emotions, which you cannot communicate with known people. In 2020, there are many Omegle alternatives. Therefore, Omegle is not the only website to chat and interact with strangers. Listen below; we have the top 10 options for Omegle.
Top 10 Omegle Alternative in 2023
1. ChatRandom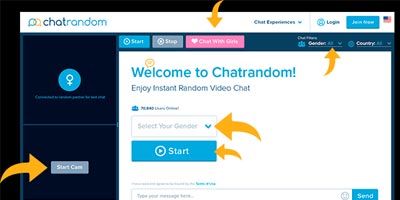 ChatRandom is a sought-after Omegle alternative in 2020. This site is strictly for 18+ adults. Hence, no kid or teenager is allowed to access the site. Therefore, teenage minds cannot get exposed to adult content.
There is no need for a subscription or registration on this website as well. You chat with strangers according to your interests and location. Therefore, you will select strangers to interact with, or ChatRandom will randomly choose people to video chat with.
ChatRandom has some fascinating features. It has unique features like gender and couple filters. It also has a "4 cam" feature where you can connect to 4 strangers simultaneously. Hence, this makes ChatRandom one of the best Omegle alternatives.
2. Chatroulette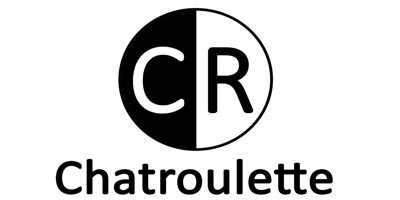 Chatroulette is another Omegle alternative. It quite popular across the globe. You can connect to strangers from different countries and learn a new language and culture.
Its prime feature is the multi-lingual feature. It was launched in 2009, about the same time as Omegle. It has about 1 million monthly visitors.
You can either chat or video call with a stranger. Its exciting features include changing font sizes and styles, and you can even draw in the chatbox. How cool is that? Users can also interact through a microphone or email.
This website is safe for old as well as new users. You can share your history and save your conversation with a user. If you are looking for an Omegle alternative, then you should go for Chatroulette.
3. Chatki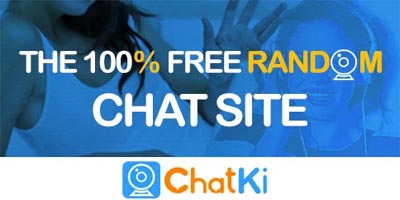 Chatki is also an online chat site where you can video call and chat with strangers. You can anonymously chat with different and new people.
In Chatki, you can easily chat with random strangers. It shows the number of people online, and you can easily connect to them. You can chat with strangers through WebCam.
It is safe for users. Chatki has adequate security measures and, therefore, you are safe. You can prevent talking to a stranger and leave the chat irrespective of who the user is.
Chatki has a lot of features and options to choose from. It is a unique user-friendly website and one of the best Omegle alternatives.
4. Shagle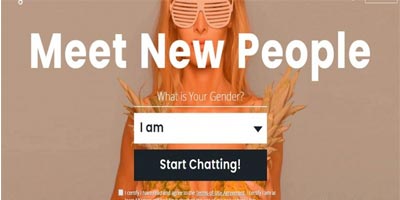 This site has one of the best user interfaces compared to other Omegle alternatives. Users can download the Shagle app and use it easily on their mobiles. The chats are becoming quite popular around the globe.
You can randomly chat with strangers around the world, in different languages quickly. You can also make friends on Shagle.
On Shagle, you can text and video chat with random users. The indiscriminate chat features make you chat with strangers and share your emotions and feelings.
5. ChatSpin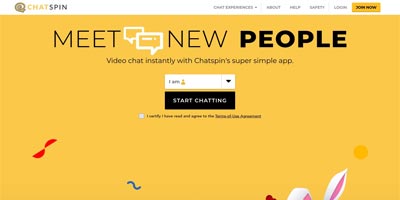 ChatSpin is an excellent way for you to know how well you can socialize. Just like Omegle, you get to chat and meet random strangers and make new friends. You may also get romantically involved with a user. The person should match your vibes.
You will find various users from different countries from around the globe. There is no need to sign up. You can chat, and even video call strangers anonymously.
ChatSpin is one of the leading chatting sites. If you are looking for an Omegle alternative, then ChatSpin is an excellent option for you. The website has a myriad of features, and also a great user interface.
6. Camsurf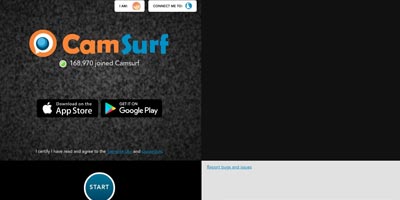 If you are looking to date a stranger or for a friendship, you must go for this Omegle alternative. Just like Omegle, there is no need for you to register. You can chat with a stranger, or talk face-to-face via video call, or even date someone.
It is one of the most sought-after chatting apps. Camsurf updates. New features are regularly. Therefore, you can never quickly get bored of Camsurf. It has unique features for android users and is easily accessible.
You can find strangers with some likings and interests. So, you get to interact and talk with people who match your vibes. It is one of the best applications as per security measures. It has some rules, and you can completely trust Camsurf to chat with strangers.
7. Ome.Tv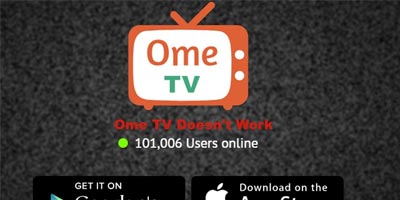 This website is quite popular among the younger population. It has a monthly user-base of over 3.4 million. Hence, you can connect to strangers and chat with them over texts, audio, and video.
It is available on iOS and Android. Hence, it is easy for people to talk to strangers. You will be able to make friends and bonds quickly. Ome. Tv is the fastest and easiest way to connect and interact with strangers.
You can get to meet and interact with people with similar interests. All credits go to Ome. Tv's perfect and quickly built website. Compared to other sites, you can easily find people over here from across the oceans.
8. DirtyRoulette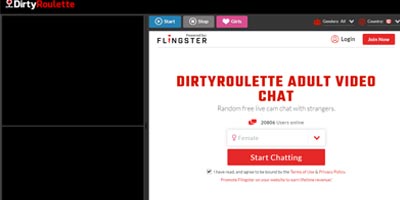 If you are looking for a fling or some personal pleasure, then DirtyRoulette is one-stop for you. Remember that it is only for people who are looking to gratify their sexual needs on Webcams. So, if you are looking for just a casual chat or conversation, go for another Omegle alternative.
It's not surprising that people do end up finding true love. Some people even marry each other. Wonders never cease to exist.
It is currently available for android users, so you can easily chat through your phone. DirtyRoulette is a site for adult conversation and content. You can find chat rooms that can lucidly turn you on.
9. EmeraldChat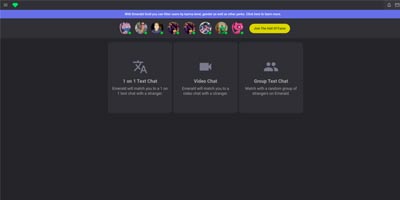 This is one website where you will find no bots. It is a wonderful Omegle alternative. It has text as well as video chats. Hence, making it quite similar to Omegle.
EmeraldChat has features like a gender filter, and apart from one-to-one chat, you can chat with random a group of strangers. You can even share media and photos on EmeraldChat and connect to new friends.
It has a massive user-base and is available on iOS and Android.
10. Bazoocam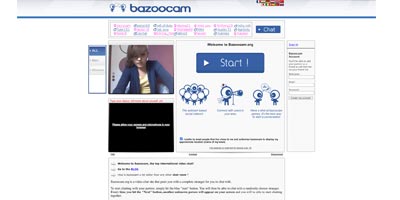 Bazoocam is a French website. You can chat with strangers through text and video. It is entirely secure and user-friendly.
A stranger randomly connects to you. So, you can talk to that stranger and share your feelings through text or video chat. The app is available on Android and iOS. Bazoocam updates new features.
You can connect with people by searching country wise. Hence, you can connect to different nationalities. You can share audio, images, and media easily on Bazoocam.
The most exciting feature of Bazoocam is that it has some games which can quickly cure your boredom.
Conclusion
When you are using an online site for chatting, you should always be careful about your safety. The above mentioned Omegle alternative care for their users and take security measures seriously. Hence, you can enjoy chatting and getting connected with new people. You can easily visit the websites and start chatting with a stranger. Good luck!